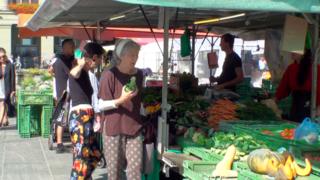 Voters in Switzerland appear to have overwhelmingly rejected two proposals on ethical and sustainable food.
Initial projections suggest the two initiatives have been defeated by no votes of over 60%.
The proposals were aimed at boosting local farming and promoting more sustainable agriculture.
But opponents, including business leaders and the government – which had advised people to vote no – had warned of higher food prices and less choice.
The size of the defeat will be a big disappointment to farmers' groups and ethical food campaigners, says the BBC's Imogen Foulkes in Geneva.
They were buoyed by initial opinion polls showing 70% of voters backed their call for more support for local food production, and for foreign food producers to adopt Swiss standards on sustainable agriculture and animal welfare.
But a strong campaign by the government and business leaders argued the measures would be unenforceable and would lead to higher food prices and less choice.
Economy Minister Johann Schneider-Ammann had called them "dangerous" and said they could trigger tariff increases and other reprisals from trading partners.